Business Intelligence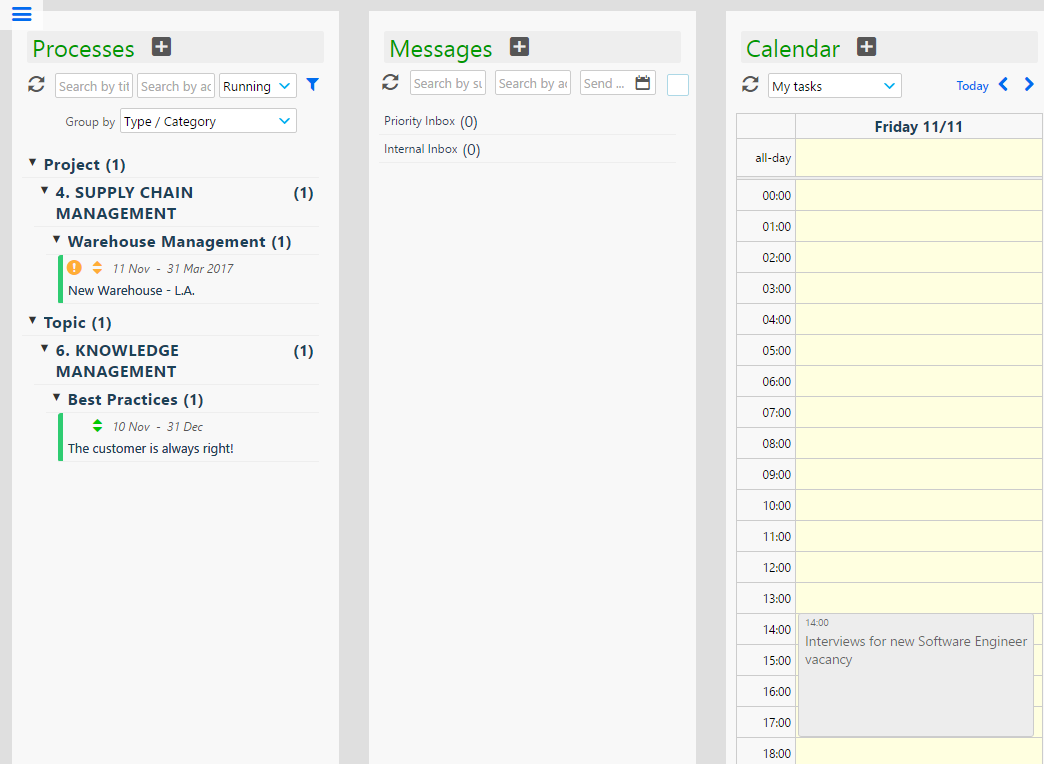 Dashboard Analytics "Widgets"
Comidor "Dashboard" contains a list of predefined "Widgets" presenting business intelligence information in a graphical manner, based on users' roles and authorization access rights. Users can select their desired widgets from a pre-defined list or create new easily executing SQL statements.
Advanced Filtering, 2D and 3D (time-based) and Query Builder
Comidor offers a unique set of Business Intelligence capabilities fully integrated into the platform. Each Comidor Unit is endowed with Advanced Filtering and Time-based mechanisms to find, filter, format and classify any kind of information from a single or multiple interconnected Units.
In each Comidor unit, the Query maker mechanism allows users to create any kind of SQL queries, simple or complex as the case orders. Queries are simple to create by selecting the desired information from the list of table fields and executing the resulting SQL query. The data-mined information derived can be stored, grouped, further processed, and exported to various formats.
The true power of the above Business Intelligence tools lies in their ability to link information from different Units, thus every user can easily create simple or more complex SQL queries that upon execution offer results of outstanding value and clarity. For example they can create a query on the fly that combines information from the Tasks, Projects, Accounts and CRM units just by selecting the associated units and their fields!
Business Geolocation
Your custom queries can be visually represented on a map, using business Geolocation technology, since Comidor integrates smoothly with Google Maps. Contacts, customers, accounts, leads, opportunities, vendors can be graphically reported on a Google Map and provide you extra insight on your activities' geographical distribution.
Dynamic Report Mechanism
Explore the powerful Business Intelligence Advanced Criteria and use the appropriate Boolean operators (AND, OR, etc.) for grouping and retrieving data of interest from your project, tasks or CRM and graphically representing same in various charts (pie, stack, line charts, etc). Create your own completely customizable reports using Comidor's unique query-maker simply by drag-n-dropping fields.
Comidor offers a wide range of predefined Business Intelligence reports to make your life easier when it comes to reporting, data analysis or even data mining. More specifically, all Comidor reports have been categorized in groups depending on key-elements. Simply select the report, apply your desired filters and get the report results in seconds, ready to be exported to MS Excel or to be printed (either in table or graph format).
Key Element
Predefined Reports
Predefined Filters
Tasks
Tasks per User
User Filters
Tasks per User Group
Task Filters
Tasks per Project
Project Filters
Tasks per Opportunity
Opportunity Filters
Tasks per Case
Case Filters
Tasks per Account
Account Filters
Accounts
Accounts per Country
Account Filters
Accounts per Category
Task Filters
Accounts Overview
Project Filters
Opportunity Filters
Case Filters
Opportunities
Opportunities per Account
Opportunity Filters
Opportunities per User
Account Filters
User Filters
Cases
Cases per Account
Cases Filters
Cases per User
Account Filters
User Filters
Projects
Projects per Project Manager
Project Filters
Schedules per User Group
Schedule Filters
Projects per Account
Account Filters
Project Manager Filters
Income
Income per category(current year)
Income Filters
Income per month
Expenses
Expenses per category(current year)
Expenses Filters
Expenses per month
Budgeting
Budget Expenses per category(current year)
Income Filters
Budget Income per month
Expenses Filters
Form Statistics
Graphical display of the results from your Forms.
Widget Designer
In case the predefined reports do not cover your needs, you have the possibility to use Comidor Widget Designer and create custom and more complicated reports selecting elements from the full pool of Comidor elements ("Hours spent per job type", "Customers per month last 2 years", "Partners per month current year").
Widget Dashboard
View all your created widgets in one single panel, a dashboard that can make it easy to compare graphs and take faster decisions.
Site Analytics
Website Traffic Analysis, Custom Scenarios for traffic funneling, data reports and graphs.
Help Center links...
Manuals