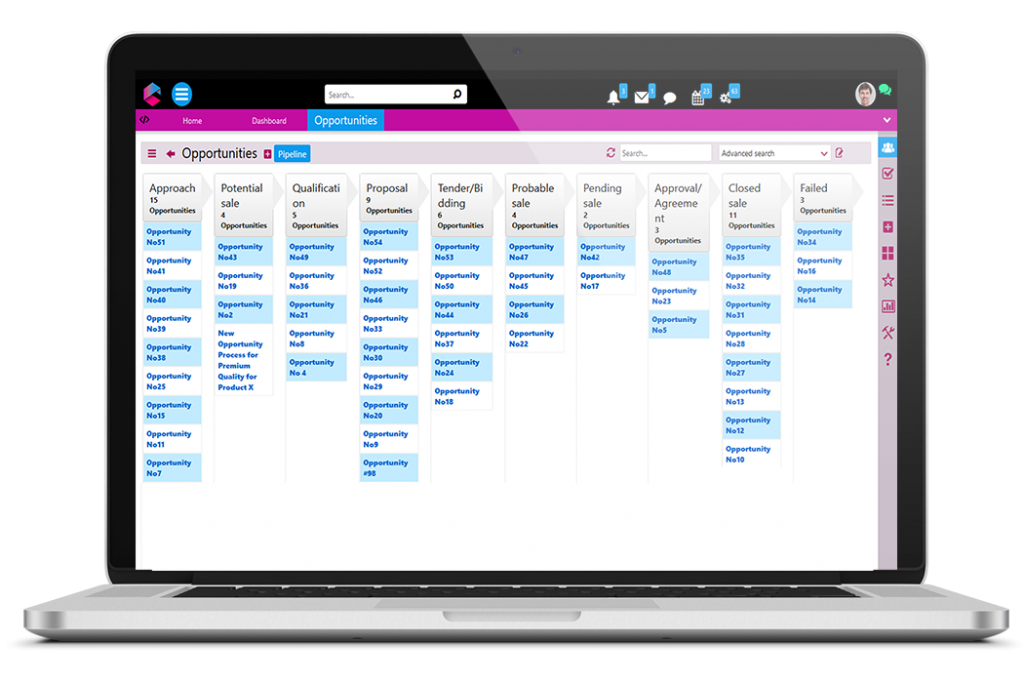 At the era of digital disruption, what matters commonly is sustaining the sales performance, while maintaining growth. In this direction, to maintain is to maintain control of the customer's journey, keeping an eye on the whole story that shows the client acquisition value.
Comidor online SFA is all you needed to initiate Sales circles

Lead management features make work to assess the possibility of prospects easier than ever, assuring that penetration stages create identifiable value to your Organization.
Accounts/Clients/ Partners/ Suppliers/ Competitors are all entities that act as organizations, to handle over similar interface menu, with detailed historical activity and changes recording.
Contacts are similarly the people, we need to get in touch and are employees/point of contacts in the above entities.
Lead Management &Pipelines
Make your potential clients a priority by using the pipeline functionality.
Identify the steps from creating lead to validating it to an opportunity.
Classify which stages of the sales process require higher attention, focusing on your team's productivity and even more optimization of your sales cycle.
Boost impact of automate your marketing work!
Create Prosperous opportunities

Opportunities can be created by converting Leads to Accounts, while during the conversion the information remains even more  united.
Forecast instead of guessing over each opportunity, while carrying the appropriate information upon which you can judge on each any potential, making your boss happy.
Analyze not paralyze, with streamed data flowing over the full sales processes, including approach/ conversion/ acquisition of clients.
Mobile Access functionality make your teams capable to have everything on hand, at any time & any place.
Control your Customer's Journey
Site analytics provide a state of the art website monitoring tool developed in-house, where you can set up scenarios, check events' occurrence and finally add automated actions on your site via scripts.
Dashboard for events metrics makes it possible to analyze each visitor's steps during website navigation, per requested period.
Funneling results is available as a result of comparing different incidents over time.
Tickets creation is simple and quick, with full traceability.
Campaign Planning, Execution & Monitoring
Target your SFA campaigns to specific market segments with the use of sophisticated filters (geographical,industry sector, seniority etc.).
Categorize your marketing campaigns and plan the exact time of their execution.
Collect valuable statistics (i.e. how many recipients opened your campaign email) so that your next SFA campaign will be even more successful.
Eliminate rework by reusing Campaign templates.
Collaborative Environment with Smart Notifications
Take advantage of the integrated enterprise collaboration tools, to keep in contact with the sales peers, easy and quickly
Use the quick notification tool so to alert your peers promptly
Choose whether you need to notify user(s) and group(s), while having the option to exclude members of a group
Option available to notify non-Comidor users, by adding recipient's e-mail
After that, define the level of privacy of your notification (private, public, etc)