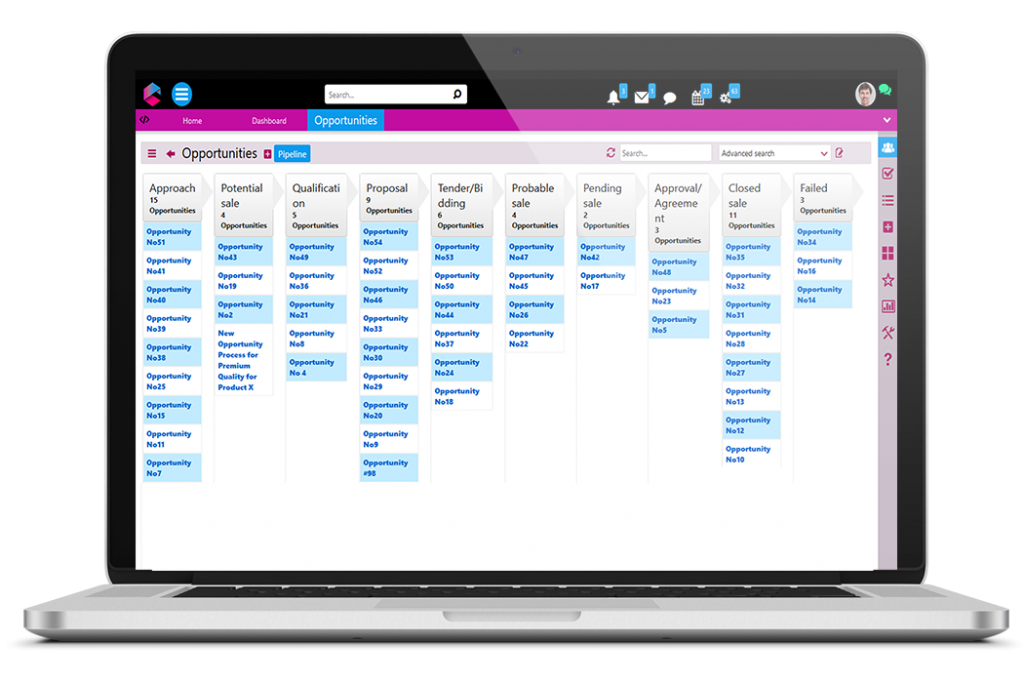 Supporting your people and your sales department, in Industry 4.0. Comidor Sales Force Automation is designed to significantly reduce the sale cycle, by empowering your talented people, with a 360° customer view.
Comidor Sales Force provides all the tools to initiate and successfully complete repetitive Sales cycles

Accounts/Clients/ Partners/ Suppliers/ Competitors are all managed with Comidor Saleforce, in one rich user interface, with detailed past activity, notes, documents, email threads and BPM processes, all in one place.
Contacts, one of the most important stakeholders in your B2B or B2C sale plan, are interactively identified, linked and presented along with their proper lead or opportunity.
Lead Management & Pipelines
Create complete profiles for your leads and closely monitor your potential deals, set targets and deadlines, assign and prioritize tasks, send proposals and analyse the competition
Prioritise your actions and focus on your potential clients by using the pipeline functionality
Identify the necessary steps that will upgrade a lead to an opportunity
Decide and classify which stages of the sale process require higher attention, focusing and channeling your team's productivity, towards sales cycle optimisation
Boost impact on sales by automating your marketing activities!
Create Profitable Opportunities

Opportunities can be created by converting Leads to Accounts, with all collected data transferred safely, during the conversion
Analysis not paralysis, with data streams available over the full sale processes, including approach, conversion and acquisition of clients.
Mobile Access functionality, provides your teams with everything on hand, at any time & any place
Monitor the tasks, which are associated with your opportunities or accounts (customers, vendors and partners), in a timesheet view. Filter opportunities and accounts by status, filter tasks by type and state and get a meaningful visualisation of the workload related to each of your CRM entities
List and categorise your products and services and maintain pricing lists. Complete sales process including quotation, proposal and contract management as well as ordering and billing
A wide range of predefined sales reports and analytics is available. Use the Pipeline Chart to compare won opportunities vs lost ones. Check Sales Funnel Chart to review the sales process
Control your Customer's Journey
Site analytics provide a state of the art website monitoring tool, developed in-house, where you can set up scenarios, check events' occurrence and finally add automated actions on your site via scripts
Event metrics Dashboard, makes it possible to understand each visitor's website navigation behavior, over a requested period
Funneling results, a visual tool available to you, when comparing different instances over time
Tickets creation not only is it simple and quick, but also with full traceability
Campaign Planning, Execution & Monitoring
Target your SFA campaigns to specific market segments with the use of sophisticated filters (geographical, industry sector, seniority etc.)
Categorise your marketing campaigns and plan the exact time of their execution
Collect valuable statistics (i.e. how many recipients opened your campaign email) so that your next SFA campaign will be even more successful
Eliminate repeatable tasks by using Campaign templates
Collaborative Environment with Smart Notifications
Take advantage of the integrated enterprise collaboration tools, to keep in contact with your sales peers, easily and quickly
Use the quick notification tool to promptly alert your peers
Choose whether you need to notify user(s) and group(s), while having the option to exclude members of a group
Option available to notify non-Comidor users, by adding recipient's e-mail
After that, define the level of privacy of your notification (private, public, etc)