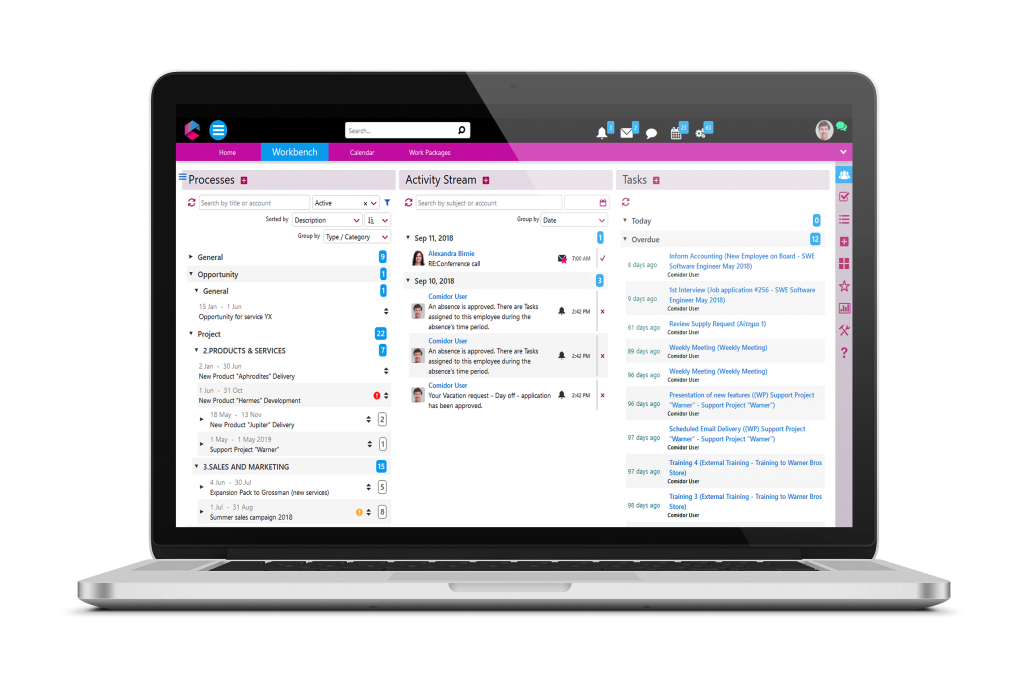 Imagine having one place where you can manage all your teams, track work, communicate and share content – then put your business inside it.



Start using Comidor Enterprise Collaboration Software today and improve your team's productivity!

Organizational Chart to virtually map your enterprise hierarchy and seamlessly let information flow amongst personnel tagging in company, affiliate and virtual groups.
To – do list for productive team collaboration.
External users can take part in your business operations.
Workforce monitoring with Application Rights to choose authorization level and access rights per user.
Personnel segmentation with leave management features and timesheets.
Communicate Faster than ever

E-mail client with multiple E-mail integration.
E-mails & internal messaging with full functionality (creating new, forward, reply, delete, link, attach, merge etc.)
E-mail Templates, drafts and scheduling capabilities to help you spend less time sending Emails.
New connected issues, tasks, records, notes via E-mail.
Chat & HQ Video Conferencing from peer-to-peer to groups using WebRTC technology.
Push notifications & reminders for tasks, e-mail-messages and upon any change or comment in the notifications bar.
Topics & discussion boards for discussions relating to a specific matter.
Document management system allows teams to share folders and files with other users and/or teams, preview them online, lock them or trace back to an older version.
DMS integration with Dropbox, Google Drive, Box.
Knowledge management forums that enable user to share things of interest with colleagues and personal notes to share with specific peers.
Enhanced CMS with records, filters, tags, indexed general search mechanism and importing options.
Get a 360° view of your Accounts

Account & contact management with Geolocation maps.
Internal discussions and documents to keep teams updated.
Full activity history of each account and contact adjustment.
Timesheets & reports with advanced filtering enabling the user to check work associated with each account.
Connected customer communications, pending, active or completed related processes and results are all available to access quickly.
Importing of contacts.
Generic processes with the capturing and recording of the process category, role-based access and changing of rights and accountability.
Process planning with Gantt chart and task creation enabling the division of work into sub-processes and tasks.
Use Comidor task management tools for personal, group tasks, work assignments and multiple orders.
Process prioritization and scheduling features to mark process state, timeframe and status and the organisation of the order of tasks.
Event Management to organize and monitor your event's capacity and planning.
Schedule Work for maximum productivity
Repetitive tasks to plan work the smarter way.
Reminders via notifications/e-mails/SMS per process and task.
Re-scheduling and postponement of issues and tasks.
Interactive calendar in a daily/weekly/monthly or grid view with filters.
User timesheets give the scheduled and actual task duration enabling the assessment of each user's utilisation.
Control Progress with intelligent Dashboards
Dashboards that give you a view of which process, e-mail or task is pending, with a preview of its information.
Check trending processes to get insights into monthly metrics.
User-friendly interface with drag-n-drop functionality to create connections between elements and e-mails.
Quick adds creation with connection to the background screen information.
Custom made dashboards that adjust to each businesses vital analytics.