PM - Project Management
Innovative "echo" Model
Assign orders and tasks to personnel, team leaders or external teams in order to always be aware of the Project's state. Track the actual project costs as these are generated and reported instantly. Have a clear picture of what's going on at any given moment in your project with powerful and dynamic reports. Comidor PM fully exploits collaboration features to achieve a high level of automation in cost calculation, tasks completion, requirements fulfillment and outcomes delivery. Comidor PM follows the steps below:
Project Manager (PM): sets up the project, selects the participating groups, Teams and plans the Gantt chart. Sets the desired workload for the resources in order to estimate the expected budget and finally assigns each team schedule to its associated leader.
Team Leader (TL): selects the appropriate resources (team members or other fixed cost resources) and assigns orders to them.
Team members (TM): accept the orders assigned to them, create their own sub-tasks and upon tasks completion their orders are flagged as "complete". As a result, the actual budget and the actual workload are re-calculated to encompass the updates.
Going backwards, Team Leader is notified of the orders' completion and they proceed to orders' evaluation to confirm this completion. Only then, can the associated requirements and deliverables be flagged as fulfilled/delivered.
All these activities affect the whole project's life, so it is important for the manager to keep track of them at any time. The Gantt chart is here to assist, displaying whole Project planning at a glance.
Project Planning & Gantt Chart
The powerful Gantt chart gives the ability to represent the time and duration of any scheduled task or group of tasks required for the project's completion. The duration and the actual dates can be changed just by editing the sub-processes in the Gantt chart. With the Gantt chart, user can define the milestones, dependencies and workload or set the critical path, simply in a really interactive interface made to facilitate collaboration. Through your Gantt chart you can:

Create Group of Schedules (Processes)
Create multiple Schedules under the same Group of Schedules
Assign each Schedule to a Group of Users to inform them and help the leader of this Group keep track of all their team's tasks
Define constraints between schedules such as (FS, FF, SF, SS) and get in line with your PMI or PRINCE2 WorkBooks!
The critical path is automatically set
Assign Income or Expenses to schedules
Set the Deliverables and Requirements for each schedule
Assign Resources
Modify your schedules and visually see your Gantt chart updated
See the actual progress on top of the planned one in real time!
Zoom in to focus on certain time periods for better progress inspection
Create notifications when a schedule is completed or delayed
Create project templates and use them to similar projects simply by changing the name of the project and edit date phases etc.
Link a project with workflow(s) in order to automate the project's phases
Milestones Chart
Establishing milestones is one of the most important steps in planning and executing projects and should be perceived as the cornerstones of project planning. Milestones are defined in Comidor PM as distinct attributes of team schedules in order to landmark the progress that should be made at a certain future point. At the dashboard milestones are shown in a time based graph for easy and quick follow up.
Milestones are defined in Comidor PM as distinct attributes of team schedules in order to landmark what should be made at a certain future point. In the dashboard, milestones are shown in a time-based graph for easy and quick and easy follow-up.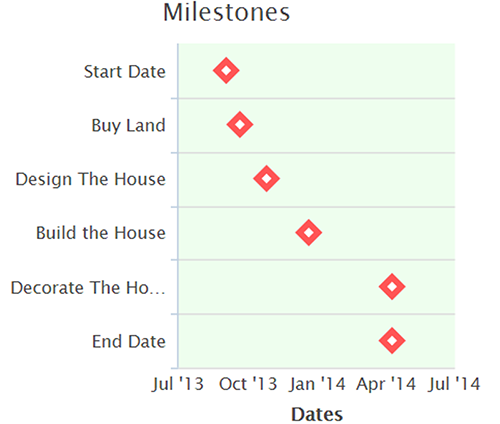 Burndown Chart
A burndown chart in the dashboard displays the work remaining, providing graphical representation of work left to do versus time as this is ideally defined in the project planning phase when the manager and team leaders assign workload to given resources.
The manager can immediately identify any deviations from the scheduled workload consumption and take actions to remedy problems. Placed next to the milestones chart, both graphs give provide a first look and feedback of the project's progress.
Requirements & Deliverables
Exploit your Gantt chart to define for each work schedule the list of requirements and assign these to multiple phases of your project. Define multiple levels of requirements' dependencies in a codified and traceable manner. Hyperlink your requirements with actual documents and follow their completion rates. You can even link requirements to external resources responsible for their fulfillment.
Set deliverables for each phase, attach documents-deliverables on them and track their delivery dates and times in order to help your teams to proceed in the next phases with all the appropriate information.
Resource planning & Asset utilization
Project Team Management with Project Timesheets
All groups of users of the organization chart can have their special role in each project, as every Project's schedule can be assigned to a group of users, who are responsible for its completion. So, build your WBS easily and inform your team leader on the fly. Track project progress and get constant real-time updates of tasks assigned to your teams. Monitor task assignees and access their workload through powerful timesheets.
Seamless team formulation and task scheduling is easy and can be done on the fly. Project Managers can check all the updates of all the team members in order to have an overview of the project's current state. Schedule unlimited task assignments to your team leaders and members. Assign users to team schedules, orders and tasks through a unified task scheduling mechanism that tracks each task assigned to project and enterprise levels.
KanBan Board
The echo-model by its nature integrates a powerful and effective visual KanBan board tool for supporting team leaders in monitoring the work progress and their just-in-time deliverables. Comidor KanBan board alleviates team leaders' burden of work-in-progress (WIP) monitoring by revealing and preventing bottlenecks dynamically.
Resources and Asset Utilization
Dynamically define and plan both physical, intellectual, human or financial internal or external resources. Manage task assignments, resource availability, roles, and workload rates. Assign multiple resources to multiple projects and automatically be informed of redundant or overstretched resources. Explore the plethora of available timesheets to have at all times clear picture of your teams' progress.
Reports and Analytics
Project Management Report mechanism offers:
Status reports showing completed/ incomplete tasks, milestones, requirements and deliverables coverage overview
Project status reporting
Project performance reporting
Production of reports across multiple projects
Ability to save reports as templates for later use
Cross-project reporting
Interactive graphical report editor
E-mailing reports to users
Export reports to MS Office and Open Office formats
Project Management Analytics offers:
Project analysis to support investment decision-making
Project analysis for investment portfolio management
Project analysis for budget and cost control
Project analysis for benefit measurements
Project of project resource usage analysis
Project of budget versus actual cost analysis
Project timing and variance analysis
Project Accounting
Have the financial information of your projects in one place in order to monitor all the costs, billing, expenses and income of a specific project's phase. Be prepared of inconvenient situations, make adjustments at your budgeting and be accurate with your financial forecasting.
Help Center links...
Project Management
General