EC - Enterprise Collaboration
Organizational Chart & Company structure
Build the organizational chart to virtually map your enterprise's physical departmental hierarchy. Once created, this virtual chart can be populated easily by drag-n-dropping your personnel. The chart is an important pillar of all operations created and managed inside Comidor as it dictates the automations, notifications, updates and provides accurate and seamless information flow amongst personnel. In Comidor there are 3 types of groups.
Company Group to represent actual company department/group
Affiliate Group to represent external users - like contractors
Virtual Group to deal with adhoc formulation of teams
Personnel and Leave Management
Add and monitor your personnel profiles and track the vacations requests and personnel availability through leave management feature.
User Management and Application Rights
Your Administrators are responsible for your users' management. They can create, edit, de-activate users and set for each one the authorization levels, access rights and Comidor functionality per user.
Interactive Calendar
Comidor offers a fully-interactive calendar assisting users in creating and monitoring their tasks and work assignments. Use different filters, to obtain monthly, weekly or daily views. You can also create multiple daily tasks swiftly through the grid view.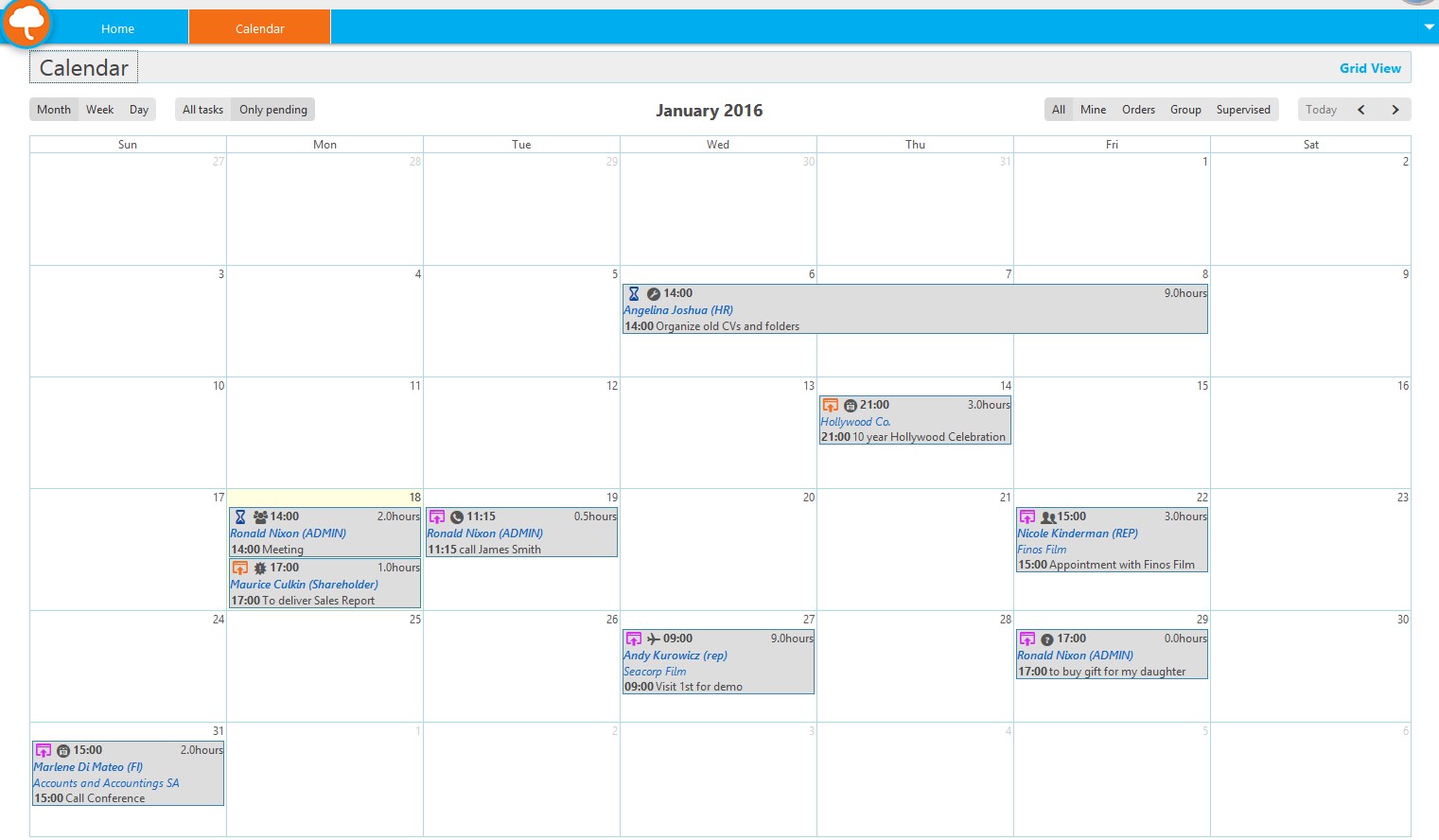 Task Management
Task creation
Comidor is all about Task management and the "Task" module offers a reliable and transparent approach to personal task, work assignment and multiple orders creation. Schedule unlimited task assignments for your team leaders and members and assign individuals to team schedules, orders and tasks through a unified task scheduling mechanism that tracks each task assigned at the project upon enterprise levels. Easily monitor all your Tasks (Work, Appointments, Meetings, Events, Phone Calls, Travel Times and Private Tasks), re-schedule reoccurring events and link these practically with any contact, account or any external Comidor user. Notify your colleagues, customers and partners with automatic task assignments, too.
Task Repetition
Any task that should be repeated in a specific schedule can be created with one-click, simply by selecting the task repetition feature.
Task reminders
With task reminders, there is no possibility to forget a pre-scheduled task. Also, this is a type of internal communication between colleagues in order to remind or notify when a task is completed.
Timesheets
With timesheets of Comidor, you can easily track your organization tasks duration per account and the scheduled and actual task duration of each user on a daily basis. Having an overall monitoring of the available time of each employee, you can decide whether he or she is over utilized or not.
Account and Contact Management
Contact management
Import your Contacts (Google, Hotmail, Outlook, Exchange Server, *.csv files) and maintain their profile (contact details, personal interests, Skype, Facebook, LinkedIn etc.). Assign contact administrators and adjust the access permissions (personal contact, public, etc.). Categorize your Contacts into groups and use advanced filters to discover duplicate entries, average profiles, geographical distribution and more.
Account management
Classify your Accounts (vendors, partners, competitors, customers), maintain complete profiles (contact details, social media links, logos), define key account managers and adjust access rights. Link your accounts with financial transactions, tasks, processes, opportunities, projects and even use Google Maps to run geo-location reports. Create custom filters to extract valuable reports and use the Activity History to recall past activities or to stay updated.
Activity history
Keep detailed track of the activity history of your Contacts and Accounts. The Activity History is a chronologically ordered list of all your related activities around a Contact or an Account. It is extremely useful when it comes to Key Account Management, but also to Lead Management. Also, if a colleague is on leave, you can always follow-up his latest sales activities simply by reviewing the Activity History.
Unified Communication
Chatting
For a quick question-response exchange of ideas, Comidor offers a text chat tool which allows an unlimited number of threads with just one click. You can either chat with one specific colleague or create multiple chat rooms with more than one colleauges.
Video conferencing
Comidor offers video conferencing for reaching out to all users no matter the distance or location. Through any web browser using WebRTC technology, the user can speak to and view his/her colleagues or partners through high-quality video streaming.
Emails and messages
Comidor integrated e-mail server allows you to connect and manage any number of e-mail accounts (personal or business) and as such offers you a unique and complete enterprise communication management system. It provides full mail management capabilities for communication (e-mails, internal messages, personal correspondence, etc ) with all typical functions such as creating new , forward, reply , delete , link, attach etc.
E-mail integration
Integrate your email (personal or professional) with Comidor and associate e-mails with specific leads, accounts, opportunities and campaigns. Then, in the Activity History of your units, you can track the exchanged communication.
E-mail templates
Eliminate rework by using email templates. Sometimes the only thing you need to change in an email is the title, the discount percentage and the date! Comidor allows you to save email templates and then edit (text or even HTML) only the parts that you need.
Document Management
Comidor offers a document management system fully integrated, able to cover the users' daily needs in creating, deleting, storing, updating, locking and logging any kind of documents and files.

Comidor works as your personal document management system. You can share files and folders with teams or individuals. Comidor's electronic library, provides you with the familiar tree-and-branch based structure for folders/subfolders and files, ensuring the availability of any file and the ability to link it to any other object (actions, task, issue, etc). Comidor retains a full version history of each file and features a native viewer for quick display or preview of the document with a variety of applications (eg MS office, LibreOffice, Acrobat Reader, etc.) Dropbox, Google Drive and Box Integration: Connect your account in Comidor and manage your folders and files directly
Upload a file from Dropbox, Google Drive and Box to from your computer
Download a file from Dropbox, Google Drive and Box in your computer
Monitor your available space
Save a file from Dropbox, Google Drive and Box to Comidor
Upload a file to your Dropbox, Google Drive and Box from your Comidor folders
In File Properties, users can lock their files in order to prevent any previewing, downloading or editing of them. Also, another useful feature is that Comidor offers version control of the files in order the user to be able to check any updates and recover information that have been lost in the journey.
Knowledge Management – Wikis and Notes
An easy way to transfer quickly knowledge inside your companies. You can save Manuals, How-Tos or just informative stuff for your colleagues. Main aim is to enhance collaborative spirit and knowledge exploration. Comidor offers an embedded Wiki for uploading and sharing the knowledge produced while working with your colleagues. You can upload videos, text, images, etc. tag and authorize all these easily and seamlessly.
Another way of enterprise communication is offered with Notes, where colleagues that are related with a process can start a discussion, communicate quickly and be notified when a new note is added.
Enterprise Content Management
Record management
Each action you perform inside Comidor is a record. From everywhere you can:
Create
Delete
Edit
Link/Unlink
Tag
Rate - Comment and Classify
Above all, the true power of Comidor Data and Record Management lies in its unparalleled traceability. You can track all updates, changes and modifications to every record just by clicking on its "Activity history" button, to obtain the record's complete history sorted by date, category, type etc.
Data management
Comidor offers the maximum flexibility and assurance in terms of managing and safeguarding your vital enterprise information. Just focus on your work and Comidor secures your data in the dedicated repositories with frequent automatic backups. Explore Comidor's global Searching mechanism. Each module is endowed with search and indexing mechanisms to provide you with outstanding speeds as you search - find – index practically anything that has been created, linked, associated and stored by you or your colleagues. Once you find the desired information you can easily categorize it and group it accordingly in order to perform data aggregation and analysis.
Importing
Import contacts and accounts from your email and/or social media accounts and seamlessly connect these to documents, contracts, processes, tasks, projects, reviews, actions and so much more. Also, with Comidor import mechanism you can successfully import tasks and see them standing in your Comidor interactive Calendar. On top of that, you can track down almost anything with the Comidor's powerfull activity history.