Great User Experience was always one of the main objectives of Comidor BPM design and structure. Our efforts to optimize the user experience further in every new software release and our goal to bring value to customers through our user interface is now officially recognized, being nominated for CompareCamp's "Great User Experience" and "Rising Star 2017" awards.
Compare Camp, a leading B2B software review website, evaluated Comidor under 9 key quality factors giving our software a total quality score of 85/100. The factors that contributed to the result are the main functionalities, collaboration features, customization, integration, ease of use, help & support, security, mobility and media rating. You can see the detailed scores in the table below.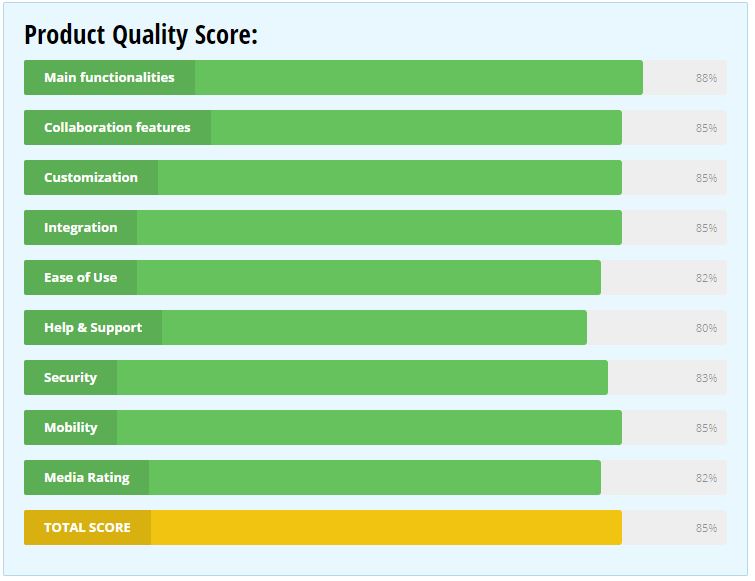 Great User Experience Award
The Great User Experience award is awarded to software solutions that have a user-friendly interface and are tested to be effective. Comidor uses the same user interface in every unit, making it easy for simple and advanced users of different business departments to find their way around and collaborate productively under the same platform. Integration and customization features make operations even more easy as they enable the software to transform in order to fit to complex business needs.
Rising Star 2017 Award
Comidor is gaining customers worldwide and becoming more and more popular among multinational companies for its flexibility and rich functionality. The Rising Star award is given to companies that show incredible growth and fill the requirements to succeed in bringing value to customers, supporting them as they grow to achieve digital transformation.
CompareCamp SaaS reviews cover countless software systems to help businesses find the right solutions for their needs. Comidor's high score on CompareCamp shows that our software has proven to be effective in helping businesses operate more efficiently.