Comidor CEO, Spiros Skolarikis was recently interviewed by Authority Magazine, a Medium Publication, on the "The Great Resignation & The Future Of Work: How Employers and Employees are Reworking Work Together"
There's no universal design for the workplace of the future. Success doesn't come from a hybrid model, or by providing remote work options. Success comes when people have freedom and the ability to choose the best work model for them. Freedom is also about choosing your own values & deciding what's important when creating the future of work.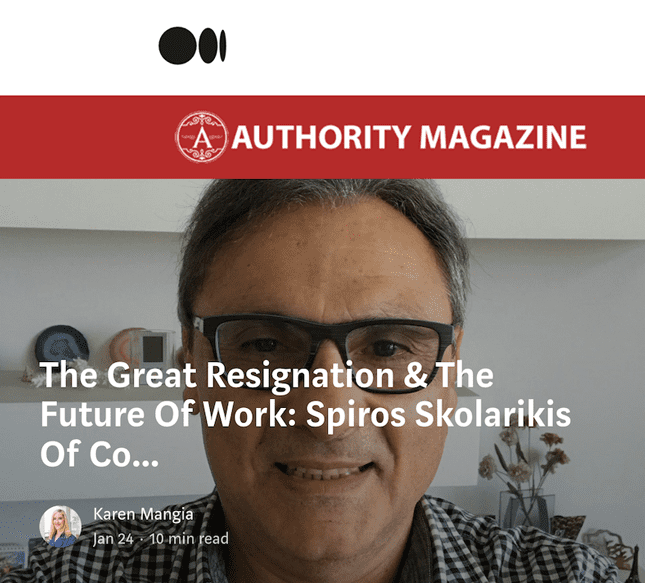 Our CEO explains how the future of work is shifting toward a hybrid model that combines both remote and in-person workplaces. More specifically, he talks about:
L

ife-changing experiences that

formed his business personality

 
When Comidor CEO first started his entrepreneurial endeavor it was a dream and a challenge at the same time, but his dreams got crushed as time went on. However, it taught him why and how to improve his emotional intelligence. He is very grateful for his struggles because they helped him grow stronger, and feel confident enough to try again.
Breakthrough technologies that have become a reality in our business life

 
The future workplace will be a meta-work environment, that will be technology-driven, flexible, open, and unbiased. Advanced, state-of-the-art technologies like Artificial Intelligence, Robotics, Augmented Reality will transform the workplace, and we're starting to see that happening now. At the same time, people's desire to better balance work and life, while businesses' need to provide appealing jobs to keep high performers are altering rapidly the future workplace.
The new hybrid model that combines WFH and in-person workplaces

 
Companies are starting to lean towards a hybrid work model that combines remote and in-person workplaces. The goal of this is to give employees the freedom of working remotely while still being able to have social interaction and knowledge sharing that can only be found in more traditional ways of working, like physical workplaces. This hybrid model must be designed correctly, and fully supported by the right automation tools to increase work-life balance for employees, while satisfying businesses' need for higher productivity.
The future of work and how

it

will reshape

the

workforce

 
As technology continues to evolve, the future of work will inevitably change. The new relationship between employers and employees will also redefine the work as we know it, which in turn will change society, too. Companies, employees, and society can all help to promote this new model of work by supporting it. That way, it benefits not only selected people but serves the greater good, too.
Top 5 upcoming technology trends

 
Workplaces are changing, and technology is changing the way we work. The traditional work model is being replaced by a more flexible and hybrid work model. AI has been playing a major role in this transformation by automating tasks and enabling employees to work faster. IoT for workplace safety is one of the most important trends that will shape the future of workplaces. With IoT, employers can monitor their employees' whereabouts and overall health conditions. Collaborative technologies are becoming more and more popular in the workplace. Although the world has become so interconnected with technology, it has become impossible for businesses to operate without leadership skills being in place.
Read the full interview here.