An organizational structure overview is of vital importance for businesses and stakeholders who desire to describe the enterprise systems, their business components, and their relation to each other. This can be achieved by enterprise architecture modeling with Comidor Enterprise Canvas & Operating Model.
Enterprise Canvas
Comidor Enterprise Canvas is the tool that enables users to build interactive and maintainable systems, easily with drag-and-drop options and connect every department with workflows.
Design Canvas
In order to access the Enterprise Canvas unit, click on the left-side menu Apps> My Company > Business Architecture> Enterprise canvas.
A new tab opens with your Canvas.
Click on the "+" icon to create a new canvas.
Switch between different canvases.
Apply the following actions:

Save all
Clear all canvases
Clear the selected Canvas
Undo your last action

Apply properties to the selected Canvas, such as Title, Width, Height, and Color.
Set as Main Canvas the primary canvas you wish to be displayed first in the Operation model.
Drag-and-drop elements (shapes, line, text) from the left side of your screen, and draw relationships between them.

Select an element and apply format properties such as Text, Font color, Font size, Font weight, and Font family.
The Background image can be used in a text element, by providing the image URL as a background.
Z-index: specify the stack order of an element, in cases of multiple elements. An element with greater stack order is always in front of an element with a lower stack order.
Connect every element with workflows. In option Category type the category of workflows that is related to this element. Every employee can get a view of all linked workflows to this element.
Alternatively, add the workflow ID of a particular workflow. This way, by clicking on this element in the Operating Model unit the users will be re-directed to the linked workflow.
Link one canvas to another, with the Linked with option. This way, by clicking on this element in the Operating Model unit, the users will be re-directed to the linked canvas.
Other actions available:

Clone elements
Delete elements
Display the Text vertically
Re-size and move elements in the canvas
Rotate and Reset rotation

Multiple Elements Control:

Multi-select two or more elements
Align elements vertically or horizontally
Apply horizontal or vertical spacing (for 3 or more elements)
Delete
Transfer the selected elements to another canvas

---
Operating Model
By integrating enterprise architecture diagrams into the Comidor landscape, you provide a business-value centric perspective of your whole organization and incorporate different levels of process overview.
Users can see the final diagram that was designed in Enterprise canvas in the Operating Model Unit.
More specifically:
360 view of all business processes per department
Less time required to complete different processes
Error Minimization
In order to access the Operating Model, click on the left-side menu Apps> My company > Business Architecture> Operating Model.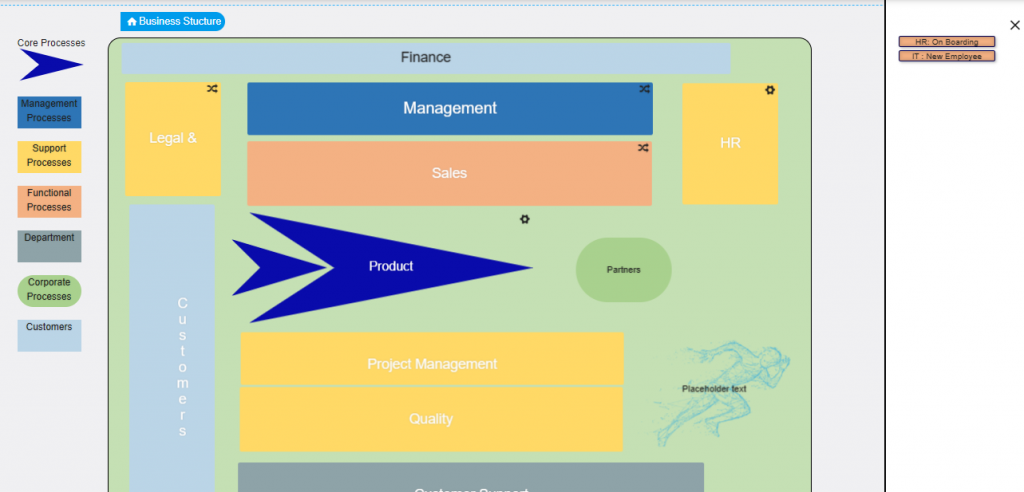 By clicking on one element that is linked with a workflow category, you can see all workflow designs on the right-side pop-up. Click on one workflow design to open it in full view.
Elements that contain a specific workflow ID are marked with a linking icon. Click on one of them, and you will be re-directed to the respective workflow design.