KPIs
Comidor gives you the opportunity to check the productivity of your business assets. Set up your corporate, team or personal objectives and monitor their completion course. Indicators can be split into targets, which divide the indicator's period into smaller time windows, allowing a higher degree of control and flexibility. You may define lower, optimal and higher goals and assign them to rewards (measured in "Comidors") and bonuses. A KPI can be connected with any type of Process, with a Template or Process Schedule.
Creating a KPI
Navigate to Application Menu icon > Business Management > KPIs.
Click on the + icon to add a new KPI.
Start with the Basic Info:

Give the KPI Title and a Description for the KPI.
Select the Strategic Objective (Example List could be: CP – Customer Profile, CP – Finance, CP – Lead Conversion, CP – Marketing, FP – Assets, FP – Employees, FP – Investment, FP – Products, FP – Sales, IBP – Efficiency, IBP – Finance, IBP – IT,  IBP – Management, IBP – Quality, IBP – Sustainability, LG – Employees,  LG – Finance, LF – Innovations, LG – IP)
The Perspective (Internal Business Process, Learning and Growth, Customer Perspective, Financial Perspective)
Type (Corporate, Group, User)
User Groups and/or User this KPI refers to, given the fact that the type is Group or User, respectively

Set up the Schedule (From Date – To Date) for this KPI
Finally, decide on the Targets:

Choose whether the KPI Has Targets (if checked, it will split up the Target based on chosen Completion method below)
Set up the Partitioning, if any (Per Day/Week/Fortnight/Month, Every Two/Three/Six months) – Combined with Targets will split up the Target to the chosen parts
Choose the Direction, which refers to "Comidors" Bonus system association with Targets (Higher is better – for High threshold Target you get the High threshold "Comidors", Lower is better – for High threshold Target you get the Low threshold "Comidors")
The Completion Method can be Stepped (for KPIs that targets should be reached in each partition time frame) or Global (for KPIs that target can be reached in total)
Target Range needs at least a Target number, but a Low threshold and High threshold may comply. For each Target number, a number of "Comidors" can be gained. Bonus Comidors may be added, too.
Initial Outcome can be set up (e.g. initial Ranking, initial amount of Leads)
Evaluation method (Higher than, Lower than) – e.g. "Higher than" can be used for KPIs which refer to Followers, Sales, Leads, Web traffic, Page speed, "Lower than" can be used for KPIs which refer to Security issues, Ranking
Measurement units (Time, Money) – Time can also be automated when combined with Processes (any type) and approved Time (approved Tasks).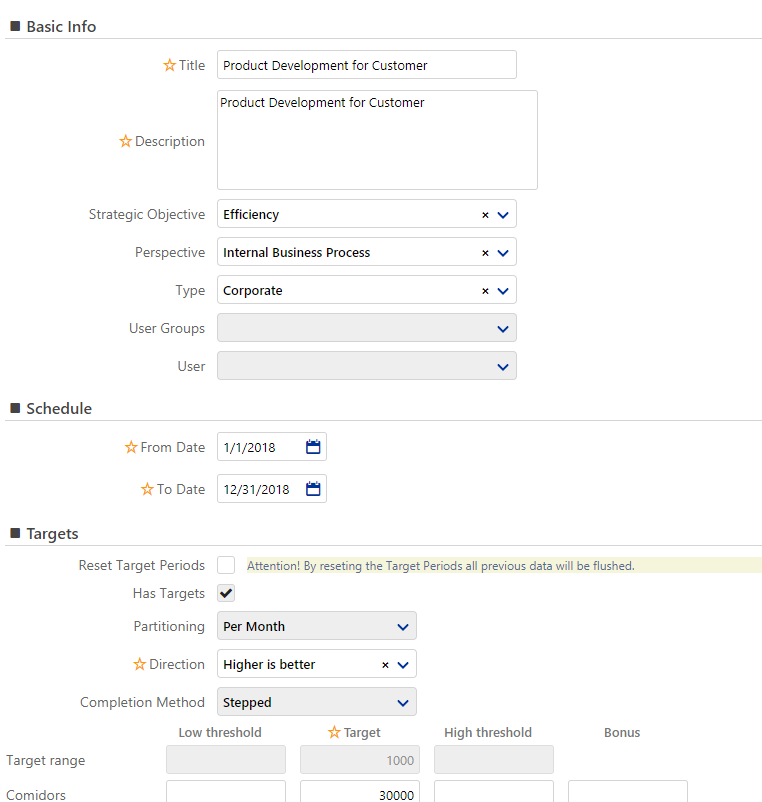 Navigating in a KPI
After entering a KPI user can do multiple actions like:
Have a clear look of the KPI progress in the Summary
Navigate to the chart to view how Targets are improved within the Time frame. Download the graph or Print it.
Click on Targets to check whether they are covered and up to which amount.
Press Processes tab to view all Processes that are using this KPI/Objective.
Click on Comidor per Personnel to view amount of "Comidors" reached per Personnel.
On the Audit tab, you can see all the changes performed in this KPI targets.
Click on the Actions button to delete, print and view a the KPI report
Or, on the pencil icon to edit the KPI.
Edit the KPI access rights and add tags to the KPI.
KPIs Report
In order to enter KPI Report:
Application Menu Icon> Reports & Analytics> HRM Reports> KPI Report. Alternatively, you may enter it from KPIs unit or Dashboard (People tab – Actions button)
Select the Division, the Company and the Team or zoom-in specific Personnel.
You may select a specific KPI and set a specific Date range.
Fetch Report and then Print it, or Export it to .doc,.xls,.csv.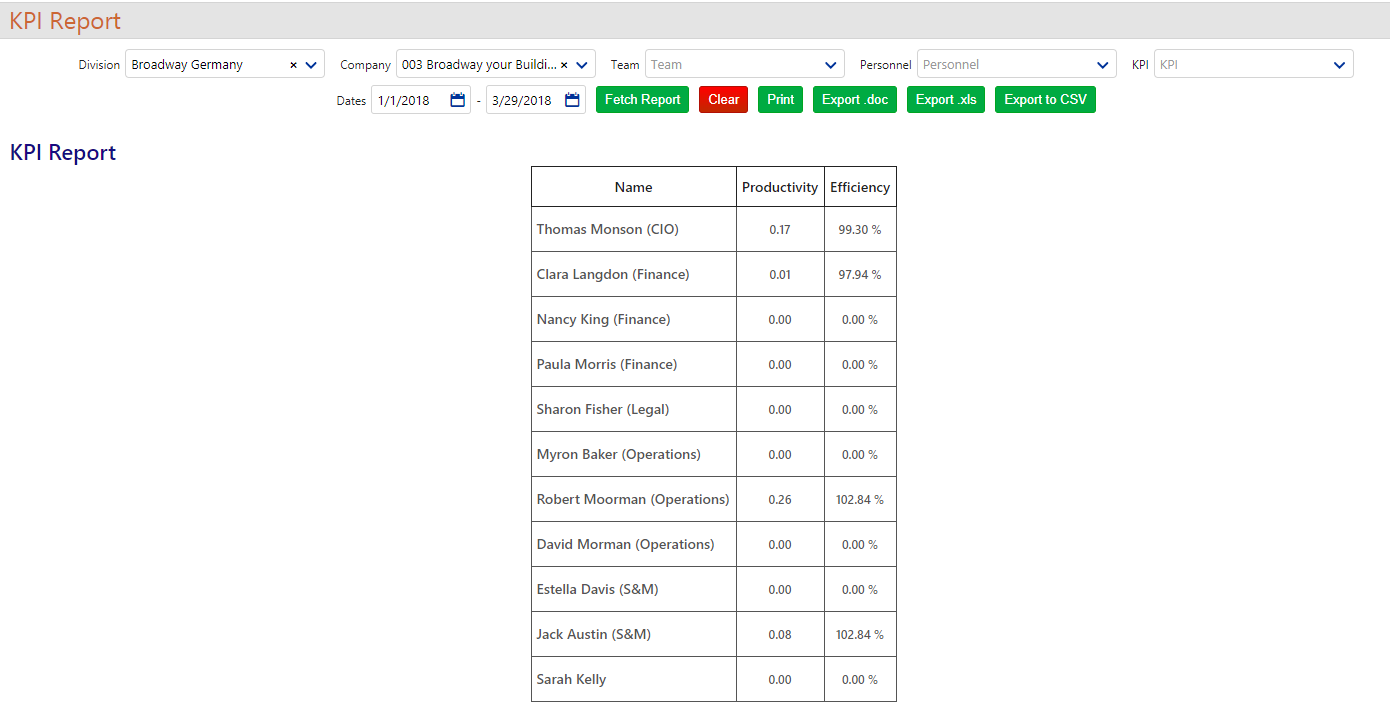 ---
KPIs can be monitored from Home unit, too, when activated.